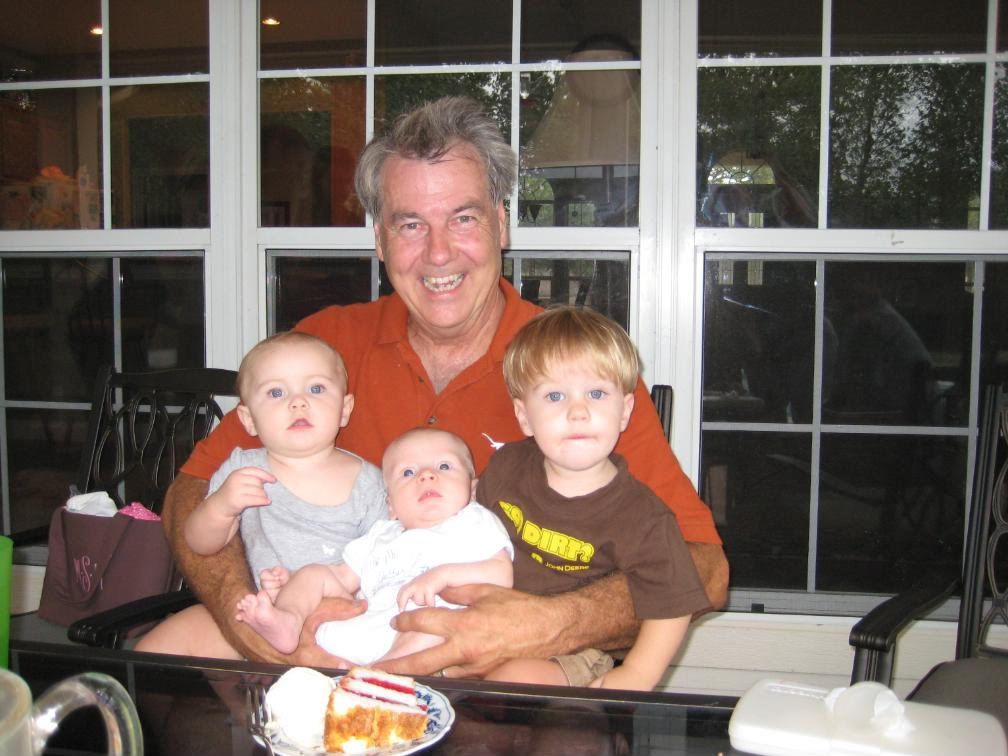 photos: JM with cousins Madeleine and Lucian and Poppa Art. JM does some flirting with the cute running ladies.
I am probably so 2003 here, but I just joined Facebook and I'm addicted. I always thought it was kind of a weird "My Space" thing for the youngins, but I am fascinated by how many cool people that I know are on there. I've been chatting with a girl from MU that I used to drive to and from CR with for breaks... Austin friends... NC friends... grade school friends... Fridays friends (did I ever mention
on here that I was a TGI Fridays w/w back in the days of flair? uh huh!).... It is a colossal phenomenal time-waster. It's amazing how quickly people can find you once you have a shared connection. Wow.
Hormones are raging in me this weekend. Friday we went out with the running people and last night we went out to my mom's for Art's birthday. I pretty much had a meltdown to Mike last night. Today I freaked out because our house was in a state of disarray. It was only after having a budget meeting with Mike that I finally chilled out. BFing has not been going well the past few days with the baby crying on the breast again and arching his back. I thought we were over that like a month ago. He does not do this when Mike feeds him his bottle.... so I've been mystified as to why it was happening. Sure enough, today after I calmed myself down, relaxed and started watching Father of the Bride, he stopped crying and started eating. It is ME! My nerves contribute to his fussiness. Wow.
This afternoon we took JM to Mamma Mia and he was a dream. I actually fed him in the theatre and it went pretty well. First off, I loved the movie. So fun. I had him under the hooter hider and it was pretty warm in there and he pretty much ate for like an hour under there, snoozing on and off. His dreams came true. He would be a good Chinese baby, wrapped up in a swaddle, grazing while I worked in the rice patty. We went to church at 5:30 and he was fussy yet again. He is a generally happy guy, but every time we go to church, he cries. I wonder if people see us walk in and think "oh, there are the people with the baby who always cries." :)
After church, Mike went to his CRHP meeting, so we are having a fun mom-son date night. I figured out how to do Facebook one-handed while I feed him (God help us), and I gave him a bath and put him down. He has a new trick where he bends both legs at the same time and shoves his booty in the air and pushes himself backward on his back towards the end of the changing table. He is going to be flipping over before we know it.
Off to bed, I think part of my problem this weekend is that I am tired. I haven't napped for days.
AC: communication